Posted by Deidamea 26 December 2004, 5:56pm
I heard a shit load about the nostredame dude
Current Mood:
Thoughtful
Current Music:
velvet revolver
Posted by Deidamea 25 December 2004, 2:45pm
My freakin khandan and I have been shifting since the past 10days.
I have no computer, no TV, NO music sys, no books nuttin wht so ever
I think am gonna die
May be i should try killing myself
am writing this post from a friends house
am still thinking about killing myself
any ideas guys????
Current Mood:
Screwed
Current Music:
no music baap....wht music? frm whr will i get music
Posted by Deidamea 22 December 2004, 2:12am
The Plane old plane old days
Current Mood:
Sloshed
Current Music:
Dream theater- lie
Posted by Deidamea 15 December 2004, 8:50pm
And I don't want the world to see me,
`cause I don't think that they'd understand,
And when everything is meant to be broken,
I just want you to know who I am...
Current Mood:
Bored
Current Music:
Iris- goo goo dolls
Posted by Deidamea 14 December 2004, 9:58pm
C'mon let us do the dew
How the most beautiful and smallest things in nature that go unnoticed keeps amazing me.
Just enlightening my fellow bloggers incase you did not know
Isnt that a cool pic?
Current Mood:
Happy
Current Music:
dheemi dheemi- 1947 earth
Posted by Deidamea 13 December 2004, 2:25am
There are awfully few days when you think that life is just perfect. When your grades are perfect, when your mum doesn
Current Mood:
Gloomy
Current Music:
Jason Marx- Remedy
Posted by Deidamea 07 December 2004, 11:13am
I have had a crush on him since 7th grade, too bad hes wayy outta my reach, he just too good for me. My dad is really proud of him apparently he is spreading out family name faster than anyone in his family (which I might add is a baseball team) He is a PROUD father of more than a hundread darlings. Surprising haan a darling like that with thattt much libido lol.
He never seems to stop amazing me, was with me since my 7th grade, the love of my life, scorpion born on Nov1st, 6 yrs old now and am still madly in love with him.
Still far outta my reach and one of the very few, that who i actually fell in love with
BUT
tell me.......who can resist him???? he is the coolest dude in the area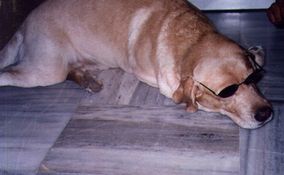 Current Mood:
Cheerful
Current Music:
Kidrock- never met a mother fucker quite like me
Posted by Deidamea 04 December 2004, 11:29am
Staring at the dark sky, looked at those countless stars, I saw so many many many stars, the sky with no limit, the beautiful blue which looked deeper than ever, made me think
Current Mood:
Gloomy
Current Music:
creed- One last breath
1