Posted by Swaname | 14/03/2005 23:48
It's been some 2 yrs that I have been to Tirumala Tirupati, Last time was I believe in July 2003. I always believed that I am indebted to the almighty for all I have received. I always got more than I can imagine, more than what a normal boy can get. I have had my share of good things and bad things in life and I believe that one has to pay for his deeds more in his present life than in his next birth. I far try to maintain displine in life, hope its balances everything. My ultimate goal might be to be a satisfied person who has no desires but only to serve people and give back to the community and mother earth. Nobel yes , how's it possible I don't know..but I'll try to one day ...
Back to Tirupati I first went to Tirumala ( Tirumala is the place where Lord Balaji's abot is. Lord Balaji is manifestation Lord Vekateshwara or Lord Vishnu who is presumed to be the most powerful God of Kaliyug,(Kaliyuga prathyaksha daivam).Lord balaji is promised other devata's that this avathara is meant for people in kaliyuga ,as kaliyuga is said to be the time when human lives with too much of adharma and commit sins . HIS temple in tirumala is the Richest temple in the world .
http://www.tirumala.org
For first time i've set foot on the seven hills I was mesmerised but the sanctity of the place and divinity of nature. Me being a proper city goer never have ever seen such a beautiful place ever in my life, full of hills and valleys, greenary and water spots..Thats the closest to nature I thought I could ever get . Then in 2001 I had my 1st toncture to Lord Balaji, 2nd time went I hadn't had it.
My 2003 visit...
This is a snap from Aler which is the last stop before embarking the seven sacred hills..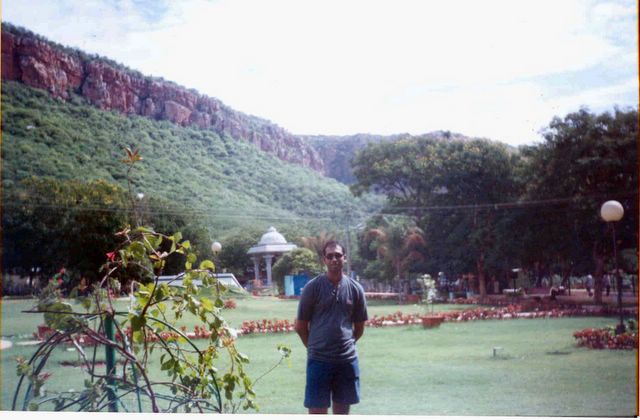 This time in 2005 I am planning to have one, I am thankful to Almighty in my senses. I truly dedicate anything in me to him wholy, and sincerly hope I'll die by his name.
I truly want to be there again and again be at his service always ....
Current Mood:
Religious
Current Music:
kondalaloo